When Ralph & Rob Stuart at Blackstone Hotsprings were putting together their newest deluxe suite, The Adventures of Superman, we were tasked with framing several Superman-themed pieces.
Above the bed: a king-sized night-time scene of a city, but birds-eye view. (Get it?) Once the guys found the right image, it was printed in extra-large format by Photo Art Imaging right here in T or C (owned at the time by Michael Kruske, RIP Mike…and now owned and run by Mike's great friend Kenny Rogers). Andrew wrapped this giant in a black moulding, clean and simple but beefy enough to support the weight.
Other framed pieces in this fabulous* suite include a cast photo from the original "Superman" TV show (1952-58), Georgia O'Keefe's beautiful "New York Night" (poster version) and three vintage Superman comic books.
Here's one of the comics: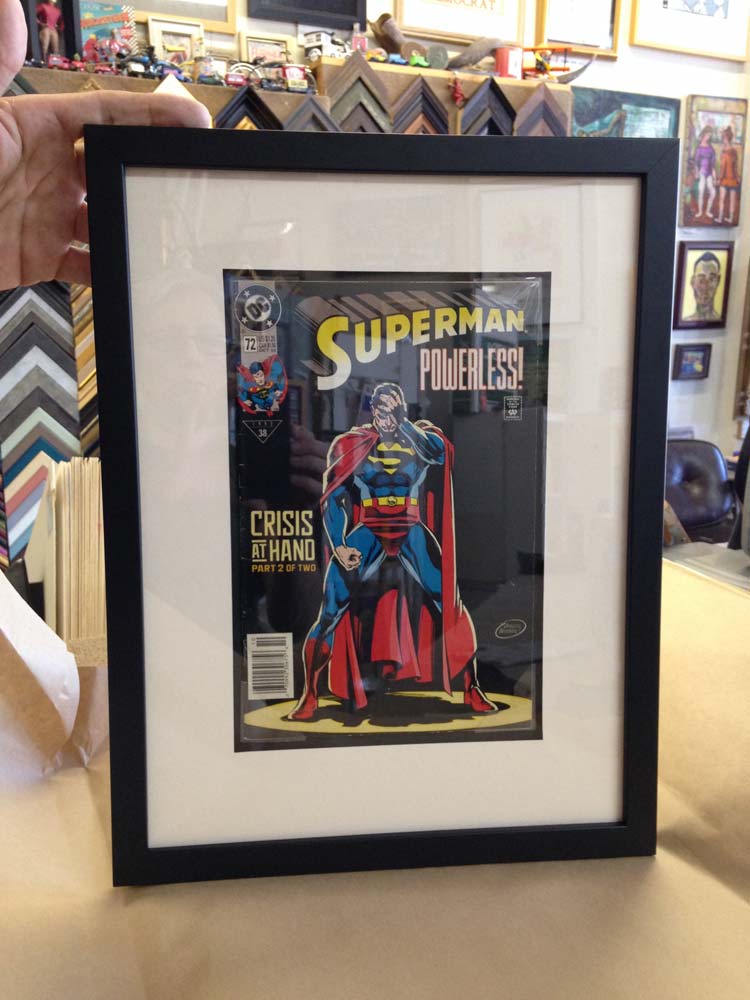 The book is not technically mounted in a shadowbox, however the moulding is deep enough to accommodate the depth of the book plus spacers. (Spacers prevent the glass from touching the artwork.) And so the effect is that of a shadowbox.
Of course we used conservation clear glass on everything in the room. Because everything fades baby that's a fact.
*We don't throw the word "fabulous" around casually. The Superman Suite features a large in-room bath, a sitting room, a separate bath with shower, a kitchenette, and a phone booth that doubles as a closet.