We first heard about YES! paste from painter Mary Welty…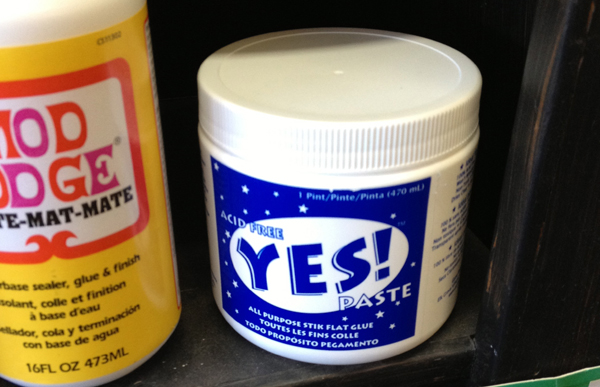 …and found out soon after that we could get it from our #1 art supplier.
At $25 per pint, it wasn't cheap (unlike our beloved Mod Podge), but Mary had sworn by the YES! – so we ordered it. What do we know?  : )
Then, a couple of days ago, an artist we follow on Facebook posted a photo of herself holding a jar of YES!, and expounded its virtues. Her words:
"omg you have to use it! its totally archival "flat" glue. its like 13 bucks for a giant vat! good buy if you are doing collage."
Wait, whut? omg indeed! $13?
We made a call to our art supplier and they allowed they'd made a mistake on their website. But their recommended retail is still $17! Aw man. Well, if you want – and as we so often say, even to our customers, because it's true –  you can get it online for less.
BUT would it help you to know one of the most popular mega-websites for Art Supplies has YES! priced at $13.50?  If you needed it soon (or even just wanted it soon! we are here to enable you in that regard) and didn't have a coupon or the means with which to buy an extra $146.50 in goods, you'd end up paying $8.95 in shipping, which brings the total up to $22.50!
Clearly — would this be a good time to remind you that YES! dries clearly? — if you're looking for YES! paste in Truth or Consequences, you should visit our store on Broadway where you can get it for ONLY $17.  Yes?  YES!
Here's more info:
---
YES! Paste is an all-purpose arts and crafts glue designed for high performance in a wide range of crafting applications. Due to its low water content YES! will not wrinkle or curl delicate or lightweight materials like competitve craft glues. It cleans up with soap and water, is 100% acid-free, and is slow-setting, which allows crafters more time to reposition and adjust their crafting materials.
What It's Made Of:
Water-based dextrine paste.
How It Behaves:
Transparent and permanently flexible when dry.
How It's Packaged:
Available in 1 pint, 1 quart and 1 gallon containers.
How to Use It:
Apply with a stiff brush.