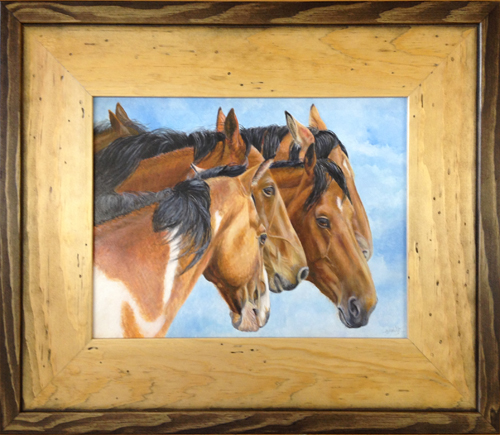 "Roughstock" is a painting by Truth or Consequences artist Mary J. Welty that's soon-to-be featured in "Art of the West" magazine (November/December 2012 issue).
When she brought the piece in to the shop, Mary said she had something elaborate in mind, possibly incorporating a linen liner and/or metal corner accents. But after trying a few options, she found that she liked the way this fairly-basic two-toned capped frame set it off.
You can see the work up close during the October 2nd Saturday Art Hop at Mary J. Welty Gallery, 424 Broadway, in downtown T or C.
Mary is a very prolific painter, and there's plenty of work to look at, in all kinds of styles, at the gallery. Prints of "Roughstock" are also available for sale.