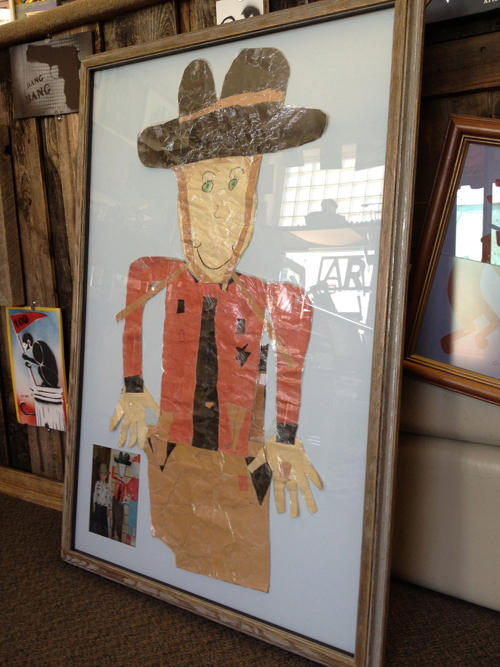 In the five or so years we've owned the frame shop we've developed a small base of frequent customers – the kind of people who bring in so many jobs that over time, you begin to wonder if they haven't made it a personal goal to to keep your business afloat. I don't normally call them out, but since we're about to lose one (if she isn't already gone), I feel compelled to shout about her!
Judy Cardwell, Doc Cardwell's Mrs., has blessed us numerous times with her big smile and warm nature and jobs of all sizes and description. Almost all of the work has been brought to us with similar instructions: "I'll just let y'all figure it out, I always love what you do, I know you'll make it look real good."
Her visits usually included a story or extended chat about the history behind whatever she's having framed, or her visits to the kids at a Childrens' Home in Gallup (with camera phone pictures to attest to how completely lovable they are).
We've learned about her family members, her volunteering, and her favorite causes – at times prefaced with a big smile and "Now I don't know what y'all's politics are, but…"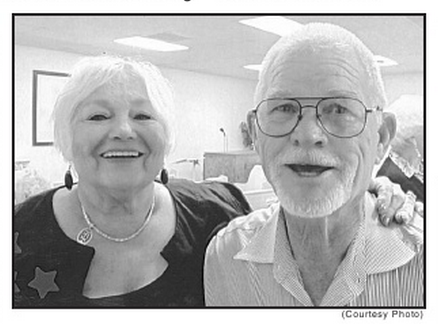 Carrying framed photos or artwork out to her car has usually revealed evidence of some party or trip or benefit she's hosted or planned. Judy is definitely the kind of generous and involved community member you hate to see go, but she's going, if she's not already gone, to make some Texans real happy once she and Doc arrive back in their home state.
When she brought in the cowboy late this summer, she said "Is Andrew here? No? Oh GOOD, I'm afraid he'll hate me when he sees what I'm bringing in this time."
It was created by her boy Bonner in grade school, and she's had it pinned to the wall in her home for the last quarter of a century.  In preparation of the move,  she decided to have it framed alongside a photo of Bonner next to his artwork in the hallway at school.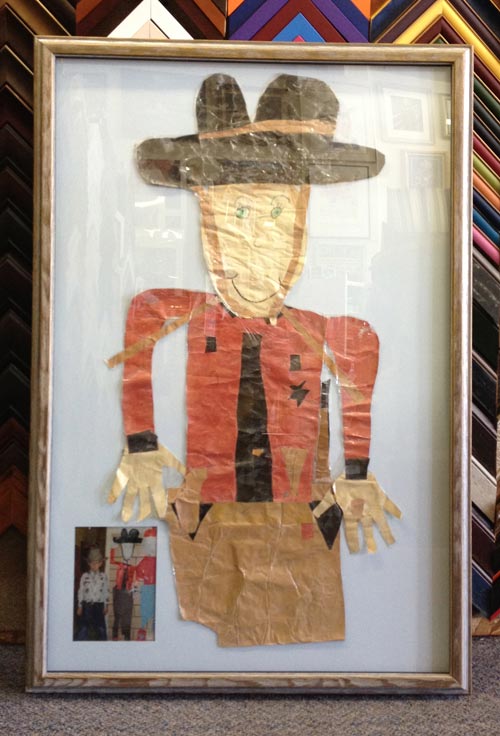 She was delighted when she came in to pick it up, and so were we – it's always a thrill to see someone light up the way she did when she saw the cowboy.  In truth she's been funny, gracious, complimentary, and easy to work with every time she's come through the door.  We'll miss her for sure!
Judy Cardwell, if you're reading this – bon voyage and thanks so much for all the business + smiles!
Warmest regards, Ruanna & Andrew