(Sitting in a Tree)
Does this look familiar?

If you're from Truth or Consequences or spend any time in downtown T or C, it might.
Artist Sam Woolcott, who visited town in January 2015 with her husband Poe Dismuke, took a liking to our town's crazy, colorful, ramshackle-in-spots aesthetic and extended her stay from 2 days to 7—sent Poe packing back to Bisbee, with instructions to come fetch her in a week—so that she could create a collection of work (see it next weekend at the Scottsdale Art Festival, announcement below).
Text from the announcement, Sam talking about T or C:
The nature of this place is long and low and linear. Wide streets, open blocks, and mid-century motor courts catch the desert light creating colorful patterns of shapes and shadows.
We got to know Sam a little while she was here, partly because our store provided fuel for her "stay and paint" scheme. (She complimented us by mentioning this more than once.)  But she must have already been under T or C's spell by the time she stepped into our shop for the first time, because she snapped up a few supplies (gouache, pastels), saying she'd left her own at home, short trip and all. I don't remember her divulging a whole lot otherwise, but by early afternoon she was back, with Poe in tow.
That's when we really started talking and learned that she and Poe own SamPoe Gallery in historic Bisbee, where they make art and sell their work.  (Check out Fetch A Sketch.)
I pointed out a drawing by Bisbee artist / gallery owner Howard Kline. Howard and his Mrs. were in town about a year ago and I guess he wanted to leave a giant business card, because we ended up with this drawing, which Howard dashed out on 8-1/2 x 11″ cardstock and handed over as a gift.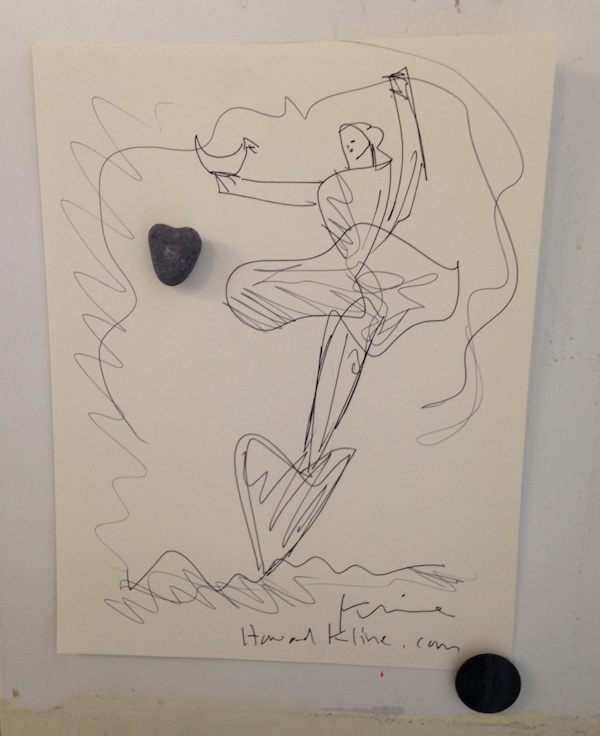 (Sad fact – we pinned it too close to some calligraphy pens and someone tested a pen on it – a mark now hidden by the heart-shaped rock magnet.)
Sam and Poe were excited to see it, Howard being a friend of theirs and all, as well as a fellow downtown Bisbee business owner.  They hinted they might like to add some of their own work to our "Bisbee art" collection. A response, if you will.
It was energizing to have Sam around town all week for a few reasons. For starters she's a nice person and a good artist, and her interest in the town and its appealing aspects was encouraging. Not everyone gets it, ya know?
Also, like said, we were able to help meet her art supply needs. She bought some things and that was appreciated, but it was also cool to watch her pull elongated scraps of foamcore or matboard out of our free bin and turn them into depictions of T or C's roof lines and trailers (dissected, of course, by those power lines of ours, which manage to find their way into every view available except for those times when you're looking at your shoes).
We also got to learn more about Bisbee than we ever had before (never been, gotta go), and had fun checking out Sam & Poe's numerous cool projects (feast your eyes on our personal faves: Sam's Play Work, Poe's Stumble Bones, and their New You Cubes).
At the end of Sam's stay, with Poe in town for the pickup, we were presented with drawings they'd made while soaking in the baths at Riverbend Hot Springs (so yeah, that's ink and mineral water wash in both pieces):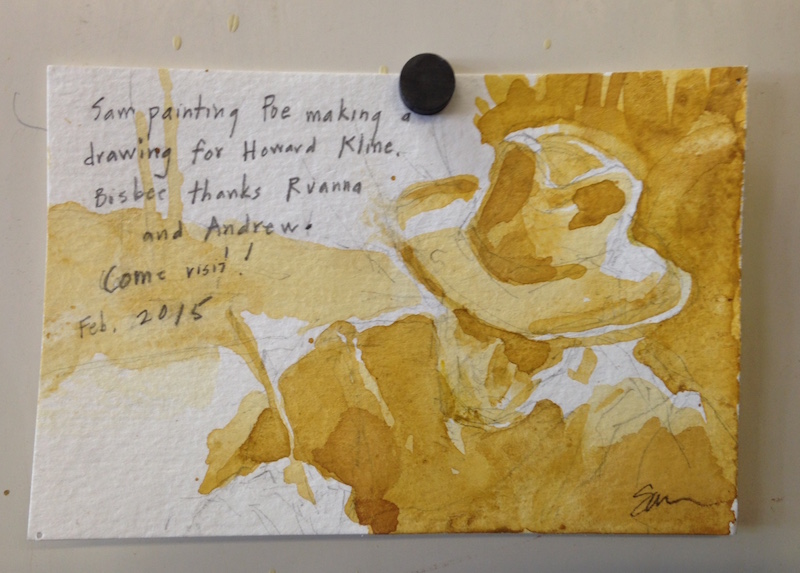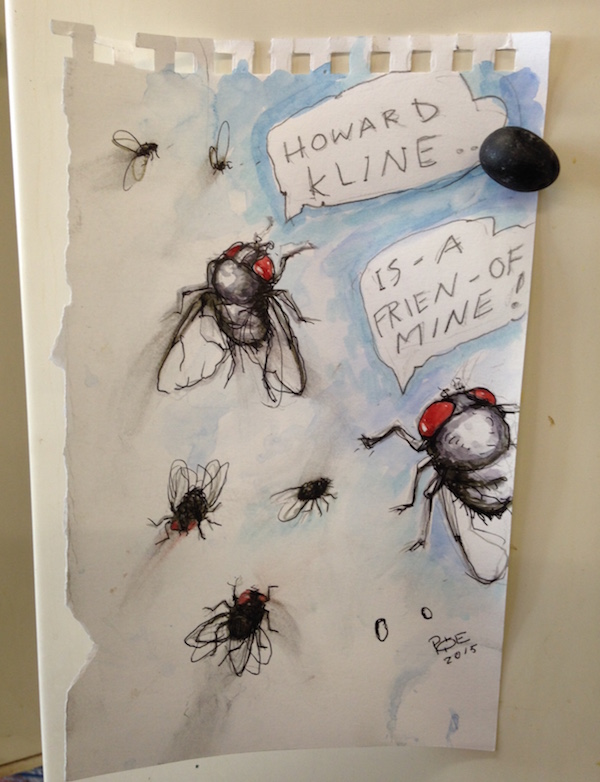 Lovely!
Hats off to Sam & Poe for making a life in Bisbee doing exactly what they love. And for coming to see us. And special thanks to Sam for finding beauty in T or C and paying tribute to it through her sketches, drawings & paintings.